How to use Trusted Tunes in conjunction with Trusted Tunes Monitor
How It Works
Green font are mouseover images
* Android
For children who have smartphones
1. Join TRUSTEDtunes at www.trustedtunes.com & login
Repeat these steps after each phone registration so you can name each phone correctly
2. Install TRUSTEDtunes Monitor app from The App Store / Google Play
3. After installation open app
4. Fill in the registration screen with the same credentials you signed up with on the TRUSTEDtunes website
5. You will see this screen iPhone Android
6. Push the home button, the app is now in stand-by mode and ready to capture song data every 24 hours
* you may see a grade & percentage at this point, that's OK you can still push the home button
7. On the TRUSTEDtunes website go to "Manage Devices/Users" from the main menu
8. Then click edit icon to name this device
9. For the device name use your child's name so you can later identify his/her phone
* If your child owns an android phone, they must click the daily TRUSTEDtunes notification for their song list to generate. example
For children who do not have smartphones
1. On the TRUSTEDtunes website go to "Manage Devices/Users" from the main menu
2. Click "Add New User"
3. Enter your child's name & click Save
4. Click "back to device/user list"
5. You will see a new entry of your child's information
Green font are mouseover images

There are 3 ways to assemble report cards
I. From our pre-assembled list of songs
1. Click on "assemble a report card" from the menu list
2. Click on "Manual Selection"
3. Simply select the songs you want to add to your report card by clicking the check box on the left, then click the "assemble report card" button at the bottom of the page. You can browse the pages or search for specific songs using the search box (the search box or the browsing method will not unselect your previous selections).
Note: Clicking the check box at the top will select the top ten songs of the week for you so there's no need to select, browse or search for anything else
4. Click "save this report card" if you want to save it
Note: Only saved report cards can be used to accumulate semester grades, so save your report cards if you want your quarterly semester grades to fully reflect your child's playlists
5. Enter the name of report card and assign the report card to which child the list was assembled for and click Save
II. Retrieve a playlist from your child's smartphone/tablet
1. By default, song lists from phones and tablets are automatically saved as report cards
2. Click on "assemble a report card" from the menu list
3. If your child's phone has already generated a playlist you will see a record of the list(s) by clicking on "Phone List" from the assemble a report card page or "saved report cards" from the menu list
4. It will be a good idea to name each report card that you will keep. To do this click on the edit icon for the list you want to name, enter the name and click Save. You will notice the Card Name went from
not having a name to the new name of the report card
5. Click on the Card Name of the report card you want to review
III. Retrieve a playlist from an external source
1. Click on "assemble a report card" from the menu list
2. Click on either "Spotify Playlist" or "Beats Music Playlist"
3. For Spotify you will see the Spotify login, for Beats you will see this the Beats login. At this page log into your child's account.
4. After the list has been retrieved you will have to log back into TRUSTEDtunes
5. Click "save this report card" if you want to save it
Note: Only saved report cards can be used to accumulate semester grades, so save your report cards if you want your quarterly semester grades to fully reflect your child's playlists
6. Enter the name of report card and assign the report card to the child who has the Spotify/Beats account and click Save
Understanding your Report Card List View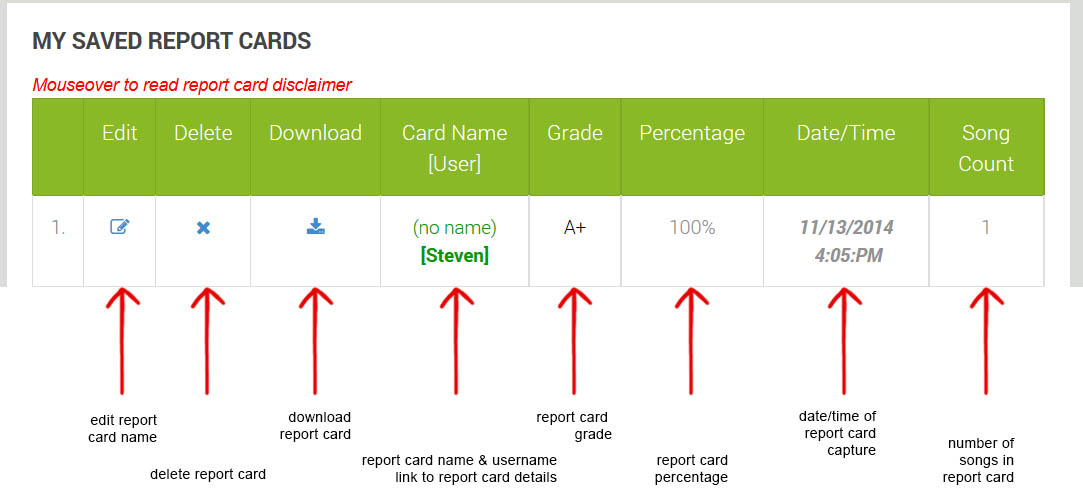 Green font are mouseover images

1. Click on the Report Card name of the song list you want to review
2. At the top of the page you'll see the grade and the percentage of this song list

Understanding your Report Card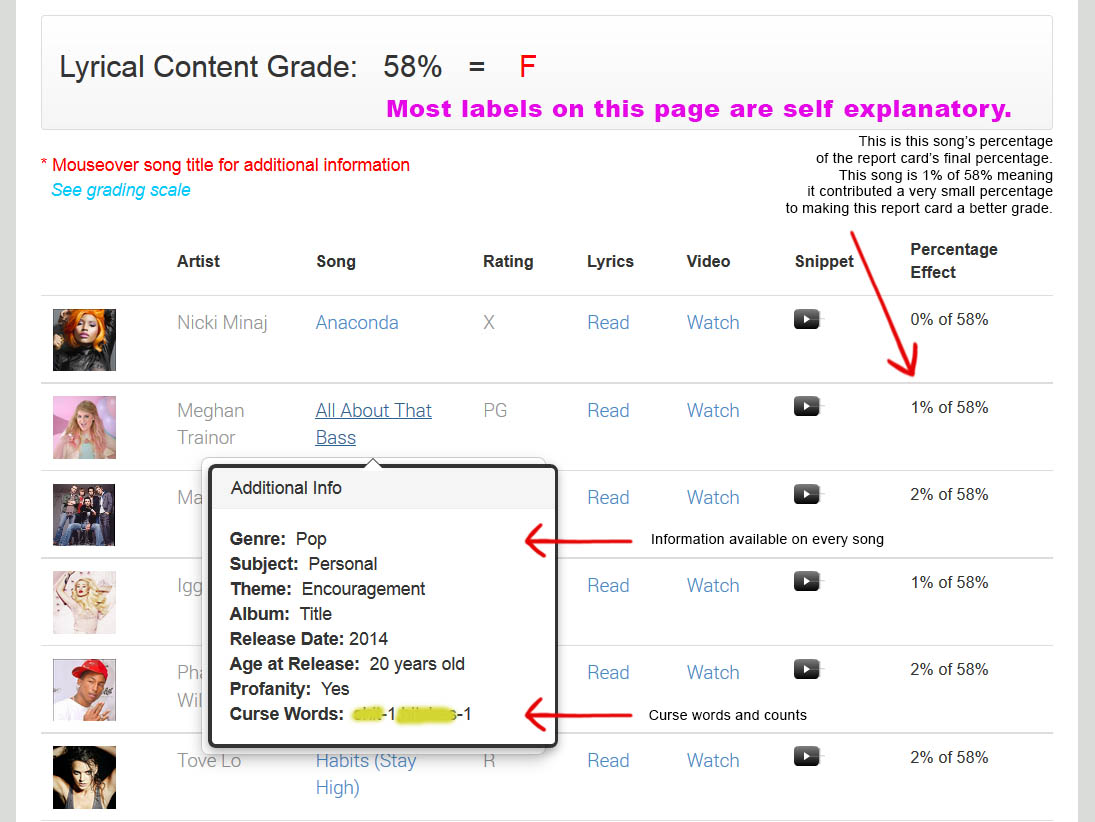 The results from any of the sources above will provide you the following criteria.
These are the results you will receive for every matched song:
Picture of the artist

Song Title

Artist

Lyric Rating

Lyrics

Audio

Video

Genre

Subject Matter

Theme

Album

Release Date

The count of each curse word in the lyrics
These are elements that will produce a lower grade:
Lyrics where profanity exists

Lyrics where the subject matter is related to sex

Lyrics that are rated "R" or "X"
Lyric Ratings
G (General Audiences) - Appropriate for all listening audiences. This music contains nothing that would offend parents or children alike. Such music has no lyrics of nudity, sex or drugs of any kind.
PG (Parental Guidance Suggested) - Should be investigated by parents before they let their younger children listen. Parents are urged to give parental guidance as the song may contain some material that is not suitable for younger children. Such music usually contains lyrics of mild violence, drug references, nudity and/or implied or inferred sexual activity.
R (Restricted) - Under 17 should require an accompanying parent or adult guardian to listen to this music. This music contains adult situations and parents are urged to review this material diligently before granting permission to their young children to listen to. Generally, it is erratic for parents to let their children be exposed to this type of music. Such music may contain lyrics of rough and/or persistent violence and suggestive material, hard language crude sexual content, sexually-oriented nudity, and/or hard drug use.
X (Explicit) - Anyone under the age of 18 should not be exposed to this music, period. Such music may contain lyrics of brutality/pervasive strong graphic violence, explicit sexual content, sexual assault, or crude indecent language.
Grading Scale
96-100 A+
93-95 A
90-92 A-
86-89 B+
83-85 B
80-82 B-
76-79 C+
73-75 C
70-72 C-
66-69 D+
65 D
64 and below F
Just like a report card!